Dpercussion @ Castlefield, Manchester (5.8.06)
And so, the annual shindig on the Castlefield cobbles arrived after months of speculation over whether it will actually happen and it was bigger than ever. Seemingly, they'd thrown up some more stages than there were last time around and also managed to get the word out to more people than ever before. Later on, the queues for the bars, toilets, food vans etc. got way too hefty to handle, so we called it a day at around 9 pm, but before that, this is roughly what we saw, heard and experienced first hand.
I made the effort to arrive early this year (around 12.15ish), but was held up by both the gates not actually being open and the tardiness of my companions. After downing a liquid lunch at the nearby White Lion, I made my way into the Castlefield compound to find my feet and my friends.
With mates in tow, we caught our first band of the day,
Omerta
. Now, to 'fess up, a family member of mine plays bass in this promising, upcoming outfit, so I'll make a concerted effort to avoid any nepotism. They were....alright. Enthusiastic, piling on the forced intensity and melodrama in an effort to show that they 'mean it, maan', they were more than pleasant, but the guitarist's over-reliance on his delay pedal and the lack of any instantly memorable tunes mean that they will have to bring their a-game to the table sometime in the next twelve months if they want to move up the bill for Dpercussion 2007.
We then made our way over to the main stage and caught a little of
Daywalkers
' fuckawful rap-metal. Maybe I'm being a little cruel there, but this kind of thing is very rarely done well and Daywalkers didn't really give me much of an impression that they were any different from Linkin Park or Limp Bizkit.
Jenna G
fares a little better, purely as I'm sure I've seen her live before, but I can't place where. Then, I realise that she was in that Danny Boyle BBC film,
Strumpet
with Chris Eccleston a while back. As for the music, it's soulful vocals and a drum 'n' bass backing. Not enough invention to keep my attention, to be honest. Heard it all before. In a bad way.
Next, we make our way to the Roman Gardens stage to catch
Liam Fray
, only he's not on. Instead, it's
The Loungs
, whose bouncy pub-rock/ska reminds me simultaneously of The Bees and Lieutenant Pigeon. They've even got a song that sounds like 'Mouldy Old Dough', but they were lively enough to get the first tentative dance of the day out of my tired old legs and the song about stealing some guy's girl was pretty darned fun.
Ah, here's Liam Fray. Last time I saw this guy, his drummer's kick drum fucked up and this time, he snaps a string one song in. Fray spits tales of modern minutiae with venom and bounces around as much as his drainpipe jeans will allow. He's also pretty rocking, considering it's just him and a drummer. There's a song about vinyl fetishism (of the 7" variety, specifically purchased from
Piccadilly Records
) and another about spending too much time on the internet, which, if they'd have come from less charismatic mouths would have alienated the interweb-hogging, limited edition seven-buying crowd, but Fray's charm has people nodding to their friends, grinning and frothing that "it's funny because it's true!".
There's another Liam on next, one whose profile is a little higher right now than the boy Fray's. Yes,
Liam Frost & The Slowdown Family
are on on the main stage, although to look at the crowd, you'd think that Bob Dylan was in town. The dishevelled-looking kid from Prestwich has come on leaps and bounds in the last twelve months since playing a tiny stage at this very hoedown. The album is due next month and the new single is getting some pretty serious nationwide airplay, so this could have been make-or-break for the guy and his band.
Forced to play a truncated set due to earlier bands overrunning, Frost cuts out a lot of the ballads, making way for the upbeat numbers. 'The City Is At Standstill' starts proceedings off in a triumphant manner, 'She Painted Pictures' is as good as ever and a closing 'The Mourners Of St Paul's' sends the big crowd away safe in the knowledge that they've just seen next year's headliners. Oh, and Sadie the keyboardist gave me a smile and a wave, I'm sure she did. Here's blurry, pictorial evidence.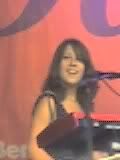 Dammit, we're at a burger van and we're missing the beginning of
The Pipettes
! We can hear 'Your Kisses Are Wasted On Me'! We head hastily back down to the front in time for 'Judy'. We also manage to catch 'Tell Me What You Want', 'Pull Shapes' and sight of Gwenno's perilously short dress. We also decide that we only have eyes for Rose, before time constraints see them racing through 'We Are The Pipettes' and skipping stage left, having won the heart of every feeble indie-boy in the crowd.
Our last port of call, before heading to Briton's Protection for much-needed libations, is the Kenworthy Stage to see, first of all,
The Whip
. I was expecting to not like them, as I'd heard they were part of this New Rave bullshit, but I was pleasantly surprised. They even coaxed a bit of serious frugging out of me with their guitar/samples/live drum attack. Sonically, they owe more than a little debt to The Rapture but with enough pop nous to suggest that they'll plough their own furrow in years to come.
After The Whip, the crowd disperses a little, but those who left miss a treat in the form of Brighton's
Fujiya & Miyagi
. Hamstrung by the partisans wanting to catch local boys The Longcut on the main stage, F&M play to a handful of people but despite this and the fact that they're not really much to look at, their laconic, motorik, krautrockin' pop goes down very nicely indeed. Spirited renditions of 'Collarbone', 'Ankle Injuries' and 'In One Ear And Out The Other' are topped off by a cover of 'The Clapping Song'. It seemed like a fitting way to end the night, so we aimed for the exits, muttering "We were just preten-ding to be Jap-on-ese".
All in all, not a classic Dpercussion, but a bloody good way to spend a cloudy Saturday all the same. Here's to next year.
P.S. If you're expecting pictures at any time soon, you'll have to wait. I was using clumsy old film, as opposed to digital, so I've got to finish the roll off yet. They'll be up as soon as they're developed though. Next month, or summat.