Rock 'N' Roll Is Dead
Hi there!
I've not posted for a couple of days (sorry), so this week's mixtape is on ice for now. In the meantime, here's a bit of a thin post on a couple of things that are occupying my headspace at the moment.
Last night, I went to see the disturbing, but fun
Kings Have Long Arms
at
Bugged Out!
in town. Now, for those who don't know what the hell I'm on about, KHLA are the twisted brainchild of Adrian Flanagan (there's something about the name Adrian that lends itself to Adrians being, well, not-rights, isn't there?), the Salford-born, Sheffield-based electro-rock crooner who sees fit to make his band dress up as a Mexican wrestler, Sherlock Holmes and Mussolini, while he actually looks normal.
Ritual humiliation of his bandmates aside, the guy sure knows how to put on a suitably chaotic and messy show that often threatens to erupt in either violence or turn into a conga line. Well, last night, blood was not spilt, nor was there any conga-ing going on, but there was a lot of audience-hugging and records skipping. There was also an epic cover of Kelly Marie's camp-disco anthem, 'It Feels Like I'm In Love' (actually written by Mungo Jerry, fact fans), which went on for longer than it probably needed to, but was utterly glorious all the same.
Be sure to catch KHLA when they come 'round your manor, I promise you that their live show is definitely something that you have to witness at least once before you die.
Gifted have a few Kings mp3s
here
.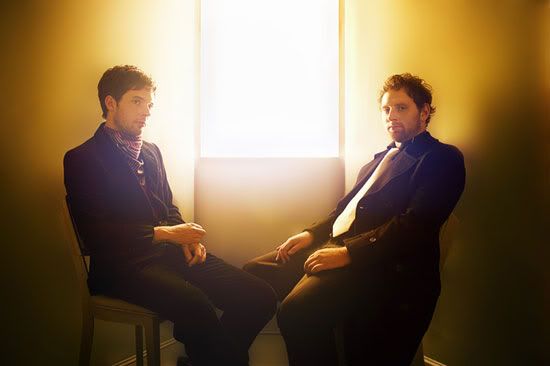 I was flicking through today's Guardian Guide earlier when I happened upon an ad for Hot Chip's upcoming UK tour. Imagine my delight when there, in black and white, the special guests for the tour were none other than Junior Boys! Fuck! Hot Chip and Junior Boys on the same bill! Makes sense I guess as they both mine a similar seam in soulful electro-pop. Granted, Junior Boys seem to take it more seriously than The Chip, but Christ, it's going to be some show. And I have tickets! For the Manchester show! On a Saturday night! Get in!
Junior Boys - First Time (mp3)
Right, I'm off to change me trousers,
JMx