"Reason I tried, but then reason, she died."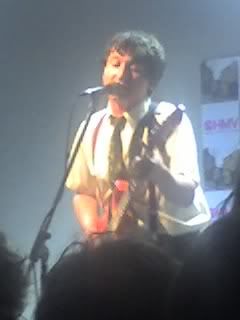 So, yesterday was a strange one. I saw the same band, The Young Knives, do two instores in Manchester at different record shops. I'd never heard of any band doing this before, especially when said band aren't actually playing a gig in Manchester that night, but it seems that The Young Knives are really going hell-for-leather to promote their debut full-length, Voices Of Animals And Men.
Frankly, I don't know whether to admire them for this or be put off by it. There's a part of me that feels this is a likeable display of pro-activity from a British band in an age when it seems that most Brit bands want the audience (or at least the NME) to come to them and if they don't, then they either call it quits or cynically slag off a rival in the press, purely because they have nothing else to bring to the table. There's also a part of me that feels this kind of shameless over-promotion is cloying and overreaching. In fact, inbetween songs at Fopp yesterday (the first of the two instores), TYK's bassist, The House Of Lords (wacky fucker) pumped his fist sarcastically when he announced that latest single, 'Weekends And Bleak Days' hit the top 40 at number 35. Forgive me if I'm wrong, but isn't that quite decent for a band of TYK's ilk? They don't peddle the kind of bland populism that the likes of Keane or Coldplay do, yet they aren't out there enough to be a proper cult concern, so number 35 for a band like them is pretty damn good.
It seems to me that The Young Knives are shooting for the moon when, if they had a shred of self-awareness, they would realise that this is never going to happen. What makes The Young Knives a good band is that they seem to plough their own furrow, regardless of current tastes. They've also decided to stay with upcoming indie, Transgressive, rather than sign to a major, which should ensure a bit of longevity for them as long as the label stays afloat. So, a little bit of advice for The Young Knives; just relax and enjoy the ride. You're never going to be millionaires doing this thing, so just chill the fuck out and make sure you have a laugh while you're doing it.
As for the gigs anyway, the Fopp one was more reserved than the later HMV one, probably only down to the time of day. Also, my companion and I adjourned to the pub after Fopp, thus ensuring that we were slightly buzzy for the HMV one, so that helped with our enjoyment of the whole thing. The Young Knives were very good at both, running through short selections of songs from the new record and the odd b-side. 'She's Attracted To' was excellent at both gigs, (although slightly more intense at the HMV do) the springy bassline hitting your bowels in a way that should be outlawed. The band were enthusiastic enough both times, without ever really pulling out all the stops. Hey, they were just instores after all. One of the best songs at the HMV mini-gig was 'Elaine', a b-side from the 'Here Comes The Rumour Mill' single, so I thought I'd post it for y'all...
The Young Knives - Elaine (mp3)
You might get the mixtape tomorrow if you're lucky...
JMx