Mixtape Ahoy!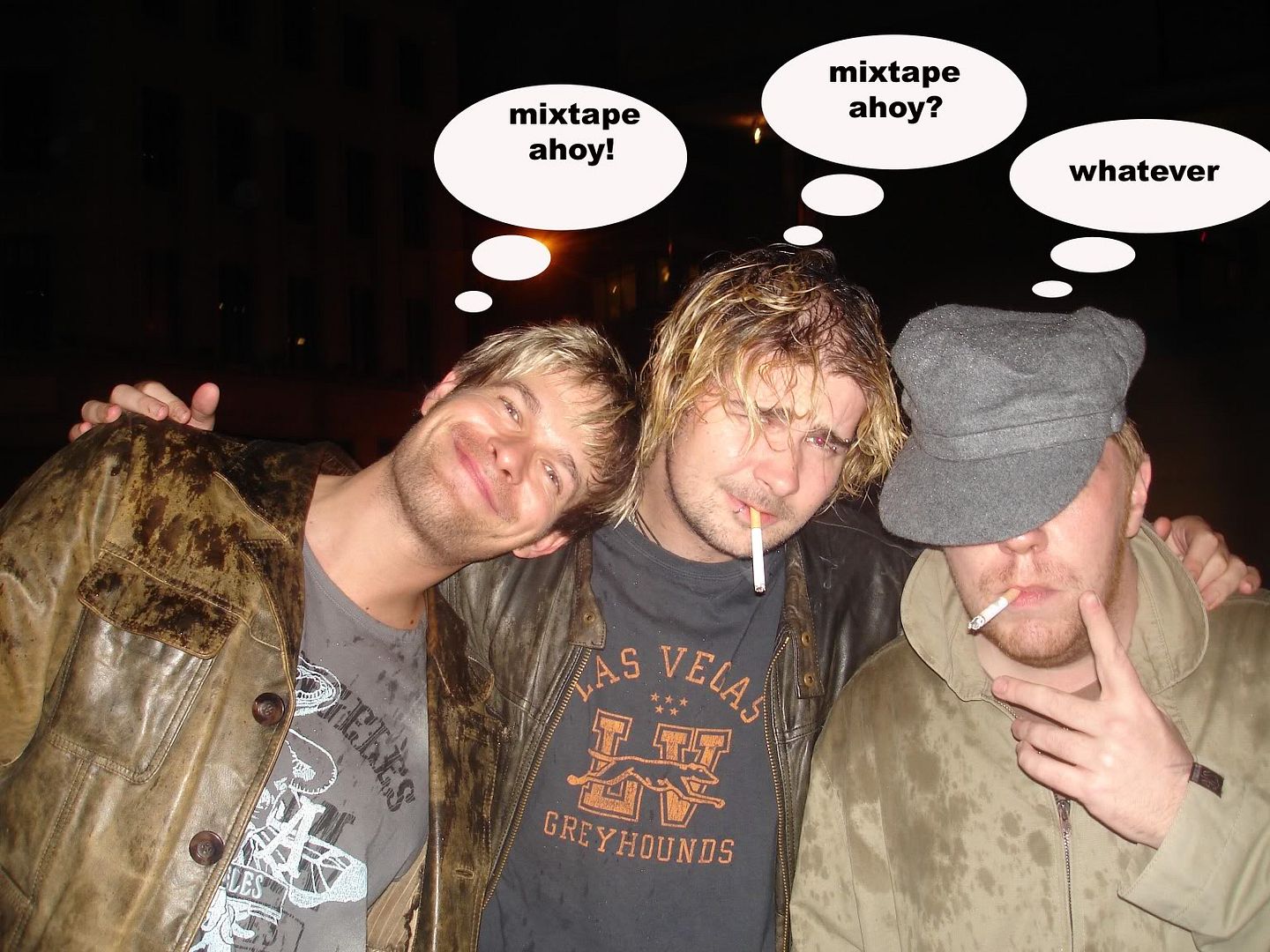 It's that time again. It's time for this week's haphazard compilation of the new, the not-so new and the old for your perusal. I think that it's a good one this week, so get your download on. As usual, if you're just after a few tracks, drop me a line on norty.morty at gmail.com and I'll see what I can do. P.S. Apologies to Kye and Chay for exploiting their image, but it was too good an opportunity to pass up. Besides, I don't look too hot in that shot either.
GIDDY UP! VOLUME SEVEN
Jarvis - Running The World (Okay, so he's dropped the 'Cunts Are Still...' bit from the title, but it's still the spectacularly angry and anthemic tune that was posted on his MySpace the other month. It's only now that he's back that I've realised how much I've missed him. Good to have you around, Jarv.)
Evangelicals - Hello Jenn, I'm A Mess (I'm a bit behind on these guys, as it seems that they've been blogged to death in the last few months. I can see why though, as their psych-pop stylings are sure to have indie boys and girls the world over foaming at the mouth in adoration.)
Dani Siciliano - Too Young (Herbert's missus weighs in with another album of found-funk and future soul to rival Scale and while it's not quite as good as that record, it's certainly strong enough to ward off any accusations of coattail-riding. This is just one of the choice cuts from the impressive Slappers.)
Spirit Catcher - Move Closer (I was so wishing that this would be a take on the Phyllis Nelson 'classic' by the Belgian boys (that would have been sweet!), but as it is, it's yet another sterling slab of taut, down-and-dirty house that puts all the commercial shite that claims to be such right in the shade. Magnificent.)
The Blow - Babay (One of the many highlights from The Blow's rather fine debut full-length, Paper Television. This is one of the tracks that takes the Brill Building-meets-Kompakt template that The Blow seem to have patented just for themselves. Nice one!)
Darkel - Earth (Air's Jean-Benoit Dunckel does a rather neat summation of the current ecological hot potato by just repeating "We belong to the Earth/Doesn't belong to us", over and over atop a lo-slung bassline, orchestral synths and slo-mo hip-hop beats. Meandering in the best kind of way.)
New Young Pony Club - Ice Cream (I think I put this on a mixtape a while back, but it doesn't matter as this just keeps getting better. Tom Tom Club would have been proud as NYPC breathe new life into a sub-genre that was starting to get stale.)
Justin Timberlake - FutureSex/LoveSound (Title track from the mainstream pop album of the year. Justin coos sexy/pervy sweet nothings over a backing that consists of metallic drum hits, the bassline from 'Another One Bites The Dust' and, well, not much else. Proof, if it were needed, that Timbaland is an absolute fucking god.)
Snoop Dogg feat. B-Real - Vato (Anything Timbo can do, The Neptunes can do, well, not better, but almost as good. I'm a sucker for tambourines and handclaps, so I was always going to like this. Snoop's new record, The Blue Carpet Treatment (que?) is bound to be shite though, isn't it?)
Beyonce - Green Light (The Neptunes hit the mark again with this, one of the strongest tracks on B'Day. A skeletal percussion track makes way for a simple, 'Crazy In Love'-like big ol' chorus, with B hollering "Go! Go! Go!". You can just see thousands of girls in different branches of Lloyds Bar all over the UK, screaming this at undesirable suitors. Isn't that the kind of thing that makes music great? Probably not, but it's a fun image all the same.)
Pigeon John - Do The Pigeon (No, it's not some kind of flying-rat-related novelty tune, but a near-perfect, if a bit late, summer jam from Quannum's newest signing. Shit name, cracking song.)
Craig Mack - Flava In Ya Ear (I picked this to be on this week's mixtape on Monday, then heard it on the soundtrack to The 25th Hour on TV that night. Freaky-deaky! Still a great tune, all these years later and despite how much J.Lo and Ja Rule tried to ruin the memory of that sample.)
Oh No feat. Dudley Perkins and Georgia Anne Muldrow - T. Biggums (In which Perkins takes on the persona of David Chappelle's loveable crackhead, Tyrone Biggums. Muldrow plays the part of his weary mother while Madlib's little brother drops the soul from behind the desk. Oh No will always be in his brother's shadow, but if he carries on laying tracks like this, he just might get his moment in the sun.)
Carleen & The Groovers - The Thing (A hot-and-heavy funk nugget about which I know nothing other than the fact that it makes me want to shake my skinny white arse. Git down!)
The Rapture - The Devil (Now that The Rapture are more Studio 54 than the Mudd Club, I guess this is their 'Always There'. Superb discoid strangeness from the funkiest white boys around. They used to sound like The Cure, you know.)
Reverso 68 - Tokyo Disko (Part One) (I have a feeling that these guys are going to be THE name to drop next year. They've been a little reticent thus far, with just a few releases and remixes to their name, but they surely know their way around a groove. Balaeric is about to come back, big time!)
Scissor Sisters - I Don't Feel Like Dancin' (Erol Alkan's Carnival Of Light Rework) (I posted this as a one-off a couple of weeks ago, but I couldn't resist putting it on a mixtape too. Alkan just keeps getting better at this remixing thang, doesn't he? Reach for the lasers, motherfuckers!)
Part One (Jarvis - Justin) Zipped and Rapidshared
Part Two (Snoop - Scissor Sisters) Zipped and Rapidshared
Enjoy!
JMx