"Take a picture here, take a souvenir"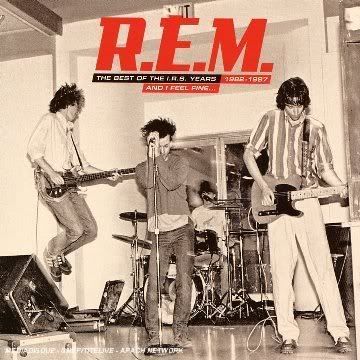 This week, I have been mostly listening to the fabulous new R.E.M. compilation,
And I Feel Fine: The Best Of The I.R.S. Years - 1982-1987
. For some, R.E.M. start and end with these two dates as if they became a completely different band the moment they signed to Warners. Personally, I prefer their earlier work myself, although I don't think that they became completely redundant the moment they started selling records by the million. In fact, my favourite R.E.M. album is the shockingly underrated 1995 effort,
New Adventures In Hi-Fi
.
What makes this collection different from the 1988 compilation,
Eponymous
is that the band have actually compiled this and even though they're at the point now where they don't exactly need any more revenue,
And I Feel Fine
feels like less of a cynical cash-in and more of a well thought-out snapshot of a band finding their feet and navigating an impressive learning curve.
Throughout this set, you can chart the progression of R.E.M. from spunky, scattershot college rockers, aping The Replacements at every turn to a band truly finding their own voice, laying bare the potential to be arena-fillers that they were soon to realise. From the ragged, charming experimental pop beginnings of
Murmur
, an album that many think they never bettered, through to the mature indie-rock of
Document
, each of their first five albums are represented by a handful of songs, showcasing folky numbers like '(Don't Go Back To) Rockville' from second album,
Reckoning
, Talking Heads-esque punk-funk like
Fables Of The Reconstruction
highlight 'Can't Get There From Here', superb jangle-pop like 'Fall On Me', right on through to the magnificent bombast of
Document
's 'Finest Worksong'. It's a formidable set, that's for sure.
The main thing that struck me when I stuck
And I Feel Fine
on for the first time was how many I could still sing along to. Having not dipped into R.E.M.'s early back catalogue for quite a few years now, I was surprised at still knowing all the words to 'Fall On Me', 'Radio Free Europe', 'Driver 8', etc. I was also reminded of my all-time favourite R.E.M. song, one that they did when I saw them at Glastonbury in 1999 (I think. Could've been '98) and it was a real lighters-in-the-air moment for the fans who knew that there was life before 'Losing My Religion'. So here it is...
R.E.M. - Cuyahoga (mp3)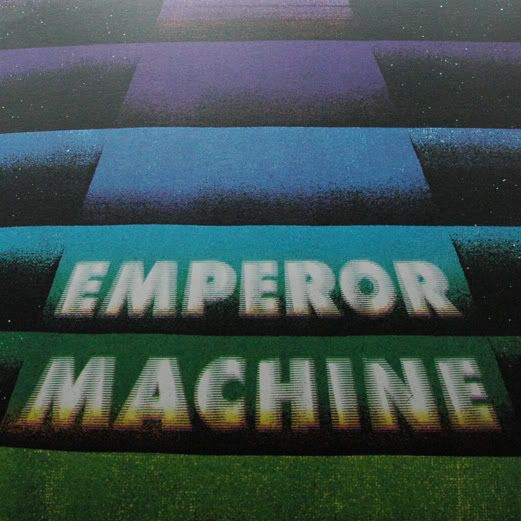 Another record that I've been caning as of late is The Emperor Machine's second full-length, Vertical Tones And Horizontal Noise. For those who don't know, The Emperor Machine is a guise favoured by Andy Meecham from Chicken Lips. They love their pseudonyms, the Chicken Lips guys. Meecham is also known to favour the moniker Sir Drew, while co-Lipper, Dean Meredith goes by the names of Goat Dance (whose 'Sizzle' 12" is one of my favourite releases of 2006) and White Light Circus.
Which brings us back to The Emperor Machine, as Meecham releases under this name on DC Recordings, J Saul Kane's label that is also home to White Light Circus. Anyway, The Emperor Machine's new album mostly compiles the Vertical Tones... 12"s, with a few newies thrown in for good measure. It's a uniformly excellent album, packed to the gills with sparkly sci-fi disco, like Moroder, Carpenter and Levan on a sequinned rocket ship, headed for the vampire planet with nothing on board but class-As and a mirrorball. Only not nearly as ridiculously contrived as that sounds.
Anyway, have a taste...
The Emperor Machine - Tropical Waste (mp3)
Back tomorrow,
JMx