Rubbin' 'n' tuggin' on a Thursday night!
The past few days have been spent doing more important stuff than blogging really (except for last night when I was so shocked into posting by hearing of the end of the road for
Output
). I've managed to soak up a fair bit of new music this week though, like some kind of audio sponge and the one record that I've tried my best to suck dry is the new Fabric mix from Rub 'N' Tug.
I've been dying to hear this since it was announced and I'm very pleased to report that it doesn't disappoint. Much like the last Fabric mix by Tiefschwarz, this set plays with your notions of what to expect from the creators. Whereas Tiefschwarz' was an enjoyably dark and almost forbidding selection, Rub 'N' Tug pull the rug on us by being somewhat more professional and much more slicker than on their
Campfire
mix for Eskimo last year.
You got the impression on that record that Thomas and Eric were drunk at the helm, the levels being all fucked up and the selections being strange to say the least (Cozy Powell! Hot Chocolate!! Linda Law!!!), but despite, or perhaps because of this sense of inebriated adventurism,
Campfire
turned out to be arguably the most playable DJ mix of 2005.
And so, to
Fabric 30
. Well, as I said, it's certainly better put together than
Campfire
(but then again, so is MFI furniture, eh, 80s joke fans!) and it's more straight-up dancefloor-oriented, but there's no doubting that these guys favour wit and daring over rote beat-matching. Witness as they swerve from Curtis McClaine & On The House's (ie. Marshall Jefferson) 'Let's Get Busy' (ie. 'Move Your Body', only less well-known) into Blackstrobe's excellent dark disco take on Sir Drew's 'Shemale'. Or the bit where Serge Santiago's dub of 'Atto D'Amore' dissolves into Shit Robot's remix of 'Dragon' (rrrawrrr!) that'll make your heart skip a beat when you realise what just happened. Or indeed the awesome part of the mix where they pretty much play the whole of Lifelike & Kris Menace's devastating 'Discopolis', purely because, well, it's the shit, innit.
I defy you to not move to this, regardless of where you are when it's on. It got me a few strange looks when I put it on at work and was pretty much strutting around the place like some kind of disco peacock. Unabashed, unapologetic, unpretentious and just honest-to-goodness downright fun, you must get it, get it, GET IT!!!
For now, get a refresher in just how mind-shaggingly awesome that Shit Robot remix is.
Dondolo - Dragon (Shit Robot's Fire Breathing Mix) (mp3)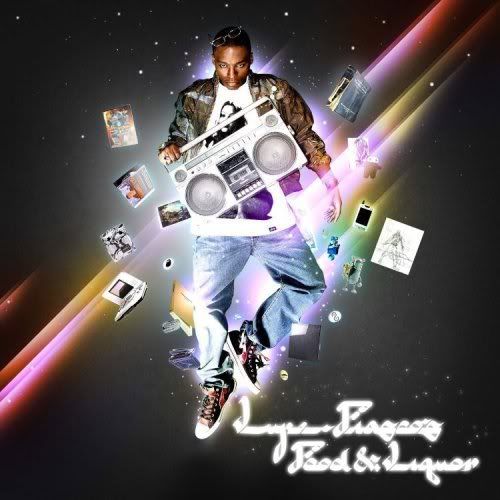 I have also been trying to digest Lupe Fiasco's Food & Liquor, the final version of which is (ahem) 'around' now. Um, it's brilliant. But then again, we all knew it would be. Actually, there was a chance that it could have been merely ho-hum, but Lupe has pulled a magnificent debut out of the bag here, announcing himself as a real contender for the King Of Hip-Hop crown that Jay-Z once had (in fact, if you believe the rumours about his comeback, then he most probably will want it back).
In truth, Lupe may be a little too eager-to-please to be truly great, but he's got time on his side and Food & Liquor is just the beginning. But what a beginning it is! Those of you familiar with the early leak won't be surprised to find out that some of those songs have now been ditched, but the ones that did make the grade ('Just Might Be Okay', 'Real Recognize Real', which is now just 'Real', 'You My', which is now 'Sunshine', to name but three) were the strongest ones on that leak anyway.
Fiasco flits from being the heartbroke street kid ('Hurt Me Soul'), to wistful backpacker ('Kick, Push', surely one of the hip-hop tunes of the year), via fiery polemic ('American Terrorist') and slow-jam smoothie (the aforementioned 'Sunshine'), but always sounds like himself, with that charming, easy-going style that will definitely win him many admirers over the next twelve months.
Like I said, Lupe often covers too many bases for his own good and this album is not without it's duff moments (the needless appearance of emo stalwart, Jonah Matranga on 'The Instrumental' and there really is no way that I can sit through that pointless outro where he thanks everyone again. That's what liner notes are for, man), but there are enough cast-iron hits, invigorating club bangers and surprising grace notes to ensure that this will be high up on many critics' year-end lists.
Right, I'll try to get my long-overdue mixtape up tomorrow night, but if not, it'll definitely be on here on Saturday.
Ta-ta!
JMx