"Why not help me do it?"
Hello all!

A couple of things to get through today, so let's start with the new singles that are all available in your local record shops as of today.

SINGLE OF THE WEEK

THE RAPTURE - GET MYSELF INTO IT (Mercury)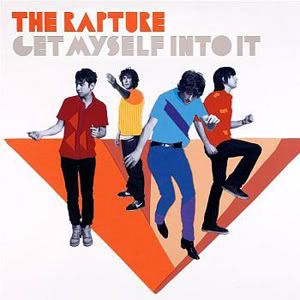 Okay, so it's probably not the most forward-thinking single released all year. Probably not even this week, for that matter. Unashamedly retro, wearing its discoid heart on the sleeve of its bright white jumpsuit, 'Get Myself Into It' (and the whole of The Rapture's new album) has one aim and one aim only, and that is to get you on the dancefloor. Some might argue that this has been The Rapture's remit all along, it's just that the new day-glo look, mirrored in their recent artwork is a more cynical, commercial way of getting people tapping their feet. However, while the rest of the post-punk chancers that followed in The Rapture's wake are scrabbling around in the dirt, The Rapture know when to ditch the scratchy and make with the shiny. An aural mirrorball with added sequins. and if I hear one more person say that it sounds like 'Connected', someone's going to get a red-arse beatdown.
The Boy Least Likely To - Hugging My Grudge (19 Entertainment)
Things don't seem to have got off the ground for The Boy Least Likely To in the way they'd have liked. There's been something about their attempts at mainstream crossover since they came to people's attentions late last year that hasn't sat quite right with me. I don't know if it was the touring with James Blunt, going up against Kubb in a Popworld battle of the bands or signing with (gulp!) 19 Entertainment that made me question their motives, but something tells me that they're constantly backing the wrong horse. Which is a shame because they do what they do very well, but if they're aiming for top 40 success, I can't see it happening. Maybe picking up Belle & Sebastian's residuals isn't much to aspire to and maybe their attempts at lassoing the moon should be seen as admirable, but in this day and age, an Armand Van Helden remix on a b-side isn't going to count for shit when you sound like The Pastels.

The Bronx - History's Stranglers (Wichita)
If you're not a fan of glass-gargling vocals, cheese-wire guitars and snake's belly-level bass, then this isn't going to change your mind. However, if you're pining for Rocket From The Crypt, you could do a lot worse than The Bronx. In fact, I personally think that these guys are probably the best practitioners of this motor-powered punk around.

Nelly Furtado - Promiscuous (Polydor)
It's still fantastic, but you can't help but think that it feels a little thin after the huge 'My Love'. I still prefer 'Maneater' too.

Richard Hawley - Hotel Room (Mute)
Do you know that, as of tomorrow, it will be a year since Coles Corner was released? Also, did you know that this is in fact the FIFTH single to be released from said album? Who does Richard Hawley think he is?! Michael Jackson?! That aside, this is still superlative stuff. Oh, did I mention that he's going to win the Mercury Prize tomorrow? You heard it here first.

Keith - Mona Lisa's Child (Lucky Number)
Excellent stuff from the upcoming Mancs, channelling both Happy Mondays and Fairport Convention in the same song, although not at the same time. Recommended.

Kelis feat. Too Short - Bossy (Virgin)
Kelis proves that there may well be life after The Neptunes, but only just. This took a while to grow on me and I still think the verse should have come from a better source than Too Short. T.I. maybe? I think that Lulu would take umbrage at Kelis' insistence that she's "the first girl to scream on a track" too.
Muse - Starlight (Warners)
The highlight from the patchy, but intermittently awesome Black Holes & Revelations, 'Starlight' is the big, spangly pop song that you always hoped (or is that feared?) Muse had in them. Great stuff.

OutKast - Morris Brown (LaFace/Arista)
Another track that I wasn't sure about at first and I still don't know whether it's just good in context of the rest of the record, but that marching band and that infectious hook sure get under your skin. It's no 'Hey Ya' though.

Scissor Sisters - I Don't Feel Like Dancin' (Polydor)
Am I the only person who thinks that this is complete shite? I think I'm the only person I know who doesn't like this anyway. And I liked the last album. This is just yeeuuch! Terrible.

Sparklehorse - Don't Take My Sunshine Away (Parlophone)
The first of three singles in as many weeks for Mark Linkous' Sparklehorse and it's a corker. It's hard to believe that Danger Mouse produced it though, as there isn't much evidence of his fingerprints on this slowly-unfolding three-minute beauty that nods towards 'Dear Prudence' and 'You Are My Sunshine' both, while sounding only like Sparklehorse. Good to have them back.

Tapes N' Tapes - Cowbell (XL)
While I'm not buying into the TNT cult totally, I will admit that they've got a few cracking tunes, this being one of them. They're not going to change the world or owt though, are they?

Yeah Yeah Yeahs - Cheated Hearts (Polydor)
The best song on the disappointing Show Your Bones gets a single release, alongside one of the laziest pop promos of all time where YYYs get fans to record themselves singing the song. Didn't Feeder do that ages ago? That's saying something when Feeder have an idea before anyone, let alone one of the supposedly hippest groups around. How old did I sound then?! Anyway, 'Cheated Hearts' = 'Maps' - a good video.
Now, last week when I posted Beyonce's 'Suga Mama', I mistakenly said that the sample came from Eddie Bo and Inez Cheatham's 'A Lover And A Friend'. I was wrong. I'm sorry. But it's okay, because Jon has got to the bottom of it. Here though, just for shits, giggles and because it's a great song is what I thought it was. See if you can see where I was coming from...
Eddie Bo & Inez Cheatham - A Lover And A Friend (mp3)
Finally, Bumrocks has the full, funky version of The Cure's 'Lullaby' up at the moment. Get it as it is full of dark majesty. Lovely!
R.I.P. Steve 'Crocodile Hunter' Irwin
JMx