"You mean de bear I had to send while you were so busy wit' your effing gwoomink!"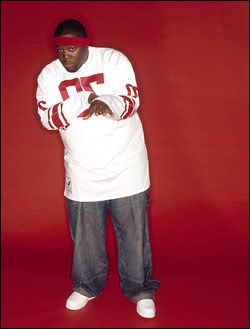 Hi there!
Just a few things to cover tonight. First of all,
Spine Magazine
has a download of a new Killer Mike track that really has to be heard. It's one of those all-guns-blazing, kick-down-the-fucking-doors, everybody listen up kind of hip-hop tracks where the MC, seemingly pissed off about everything, decides to tell the world where it's going wrong. It really is fucking barnstorming stuff. One of the best hip-hop tracks of the year, it's honest, angry and, largely, spot-on. PC points deducted though for the homophobic nature of a couple of lines towards the end of the track.
Killer Mike - That's Life (mp3)
(save as...)
Um, I know I said that there was a few things to cover tonight, but really there's only two. Here's the second; if you're a blogger based in Manchester, then you really should be at
this
tomorrow. I'll be there. I'm the ginge with the beard, which isn't bad going seeing as that profile picture up in the corner was taken only two weeks ago and I'm clean shaven in that. Come and pay your respects to my face-fuzz as it is teh awesome.
Here's a little something for beardos everywhere...
Lordy - The Watchtower (The Emperor Machine Version) (mp3)
(YSI)
Laters,
JMx