Gig Round-up!
Hello kids!
I've not posted for a good few days, so I thought I'd pull my finger out and actually write something. I've been to a couple of gigs in the past week, so here's what I thought of them, accompanied by some shonky pictures that I took on my mobile...
LOVE IS ALL @ MANCHESTER ROADHOUSE 16.9.06
There have been few more blogged-about bands than Swedish sextet, Love Is All in 2006. It's often very easy to be cynical about bands that seem to come 'from out of nowhere' to be slathered over by hundreds of internet-savvy, wannabe hacks, but it's just as easy to be swept along by the hype. At the end of the day though, these bands wouldn't be worth the energy expended to type their name on a keyboard if the music wasn't up to scratch.
Thankfully, on record, Love Is All are a breath of fresh air. Eschewing the usual politeness of Scando-pop in favour of a spiky blend of Brill Building sweetness and Slits-like shoutiness. For anyone who's heard Love Is All's excellent debut,
Nine Times That Same Song
, the prospect of seeing them live holds just as much trepidation as anticipation. The strength of their album often lies in the scratchy, time-warp production that owes as much to Lee Perry as it does, say, John Leckie. In the red all the way from start to finish,
Nine Times That Same Song
seems perfect for translation into a live setting, but there's also the question as to whether these five, unassuming Swedes really have the boundless energy it seems they have on record.
Whether they do or not is irrelevant once you've seen Love Is All live. Whereas the album wins you over with it's unrelenting enthusiasm and verve, onstage, Love Is All allow the inherent strength of the songs to carry them through, whizzing through the punkier numbers while letting the more, for want of a better word, refined songs breathe.
The easy thing to do would be to turn everything into a 100mph race to the end and the fact that LIA choose not to do this definitely works in their favour. So we get a feral opener in 'Talk, Talk, Talk, Talk', alongside a slyly reflective take on stalker anthem, 'Used Goods' where the song is slightly slowed down from the recorded version in a way that makes the story in the song (that of a jilted ex following her one-time beau around with his new squeeze, waiting for bad things to happen) more fathomable.
These switches from sugar-addled punkers to sway-worthy anthems isn't jarring in the slightest however. In fact, they only serve to highlight just how canny LIA are as songwriters. Where some Scandinavian pop music can seem archly pre-fabricated, LIA are intent on essaying a slipshod realism that suits them no better than on the brilliant, 'Make Out, Fall Out, Make Up', with elfin singer, Josephine putting her all into the song as if her life depended on it.
If nothing else, LIA are utterly charming, but scratch beneath the surface and there's a depth and a maturity to their songs that should stand them in good stead for album number two and beyond and this is evidenced by their surprisingly multi-faceted, fantastic live show. Most definitely a must-see.
LIAM FROST & THE SLOWDOWN FAMILY @ MANCHESTER ACADEMY 2 21.9.06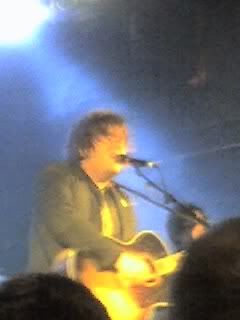 I told my friend before this gig that, after this, I was closing the book on Liam Frost. Including this show, I have seen Liam Frost live, in one capacity or another (with band, solo, instore, festival, headline gig) seven times this year and, frankly, I'm getting a little sick of the fucker. So what does he go and do? He only plays an absolute blinder that makes me like his music even more.
He keeps us waiting for a good ten-fifteen minutes before taking the stage with his extended family and ripping through songs from the
Show Me How The Spectres Dance
album with ease and abandonment that would befit a band that have been around ten times as long as these guys have.
Liam and Pete, the multi-instrumentalist have cultured a finely-tuned camaraderie that sees them trade insults and throwaway jokes that wouldn't sound out-of-place on Blackpool's Central Pier and while this isn't what you pay to see, it adds to the natural bonhomie of Frost and his band that makes them such a promising proposition.
Frost even does the dreaded solo acoustic bit well. A live staple that was besmirched by Noel Gallagher, circa 1995, the bit where the rest of the band leave the stage, leaving the singer basically naked with only the songs to hide behind is usually a pointer for the average audience member to head to the bar but Frost has the charisma and, it has to be said, the songs to pull him through. The one criticism I would make however is that his choice to cover Nick Cave's '(Are You) The One That I've Been Waiting For?' only serves to highlight the fact that he isn't the finished article yet. Not that he makes a hash of it, it's just that, y'know, he's no Nick Cave.
By the time the band finish up with a rousing 'The Mourners Of St. Paul's', I've changed my mind slightly. Maybe after the next Slowdown Family tour, I might close the book. For now however, it could stand a little more close scrutiny.