Top 300 Singles: 2000-2005 (140-131)
Yeah, this old chestnut again. Let's pick up where we left off.
140. Pulp - Sunrise/The Trees (Island, 2001)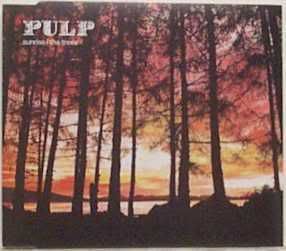 Pulp's final (?) album,
We Love Life
was tinged with resignation and lethargy, but this lead-off single was a beacon of jubilation amidst the melancholy. 'The Trees' is the more indicative of Pulp's air of world-weariness of the two, displaying the wit of old, shot through with the sense of futility that pervades the album in the talk of "those useless trees". It's all underpinned with the sweeping, synthetic strings and Richard Hawley's magnificent guitarwork. 'Sunrise' is quite a different beast. Sure, Cocker uses phrasing like "overfill the ashtray of my life" in the song's early moments, before pulling the rug and with the aid of some gorgeous lap steel (Hawley again), moves the mood gently upwards until the skyscraping denouement where Cocker may as well be stood atop a mountain, baring his chest to the world (ew!), beckoning on all-comers to knock him from his earned perch. Awesome.
Pulp - Sunrise (mp3)
139. FC Kahuna - Hayling (City Rockers, 2001)
The strength of 'Hayling' lies in the fact that it's still occasionally used as incidental music on soapy American dramas (Nip/Tuck have used it before), Sky One 'documentaries' and sports montages. That makes it sound like mere background music though, which denigrates it a little. 'Hayling' is the perfect soundtrack to heighten those moments in your life where you think things just can't get any better. For instance, imagine hearing this in Ibiza, when you're laying with your favourite girl/guy outside Space, watching the sun go down? I'm way too cool to revel in something so conventional, a fact that my hackneyed explanation of it probably shows, but you know what I mean. The way the various, warm beeps, bleeps, electric piano and sampled drums, wind around Hafdis Huld's one-line vocal ("Don't think about all those things you fear, just be glad to be here") is just heavenly. A modern, chillout (yuck) classic.
138. The Beta Band - Assessment (Regal, 2004)

Where The Beta Band normally shuffled, here they strode. 'Assessment', the first single from final album, Heroes To Zeroes felt like The Betas turning over a new leaf, thus revealing the next chapter in their career. The fact that that chapter was to be their last only makes it seem all the more cathartic. Steve Mason's vocal rose above it's usual mumbly register to almost a bellow at points, while the delayed guitar and stompy drums marched towards the brassy climax with an ambition that they'd only briefly shown previously. A much-overlooked single from a much-missed band.
The Beta Band - Assessment (mp3)

137. Interpol - Interpol EP (Matador, 2002)
Three songs ('PDA', 'NYC' and 'Specialist') announced the arrival (okay, after the little-heard Fukd I.D. EP anyway) of one of the few bands to have come out of New York in the early 21st century who have managed to balance commercial success (albeit minor) with glowing critical acclaim. Referred to by their detractors as mere Joy Division copyists, they're so much more than that. They're Chameleons copyists too. I'm joking, but the three songs here were a startling display of raw promise, and promise that they've pretty much managed to deliver on. One you should definitely own.
136. Damian "Jr. Gong" Marley - Welcome To Jamrock (Universal, 2005)

How refreshing was it to hear this furious blast of dub on national radio last year? Even hearing it blasting out of wannabe rudeboys' Golf GTis as they cruise past you put a little spring in your step, didn't it? It should have been something we'd seen coming, that the first person since Bob Marley to take true reggae back into the charts and into the public eye (even if it was only briefly) was going to be one of his many offspring. Damian went and ruined the good work he'd done here with that horrible Bobby Brown duet, but if there's more like this from him in the future, I'm sure we can forgive him even that.
Damian "Jr. Gong" Marley - Welcome To Jamrock (mp3)
135. Razorlight - Rip It Up (Vertigo, 2003)
Now that Johnny Borrell and co. seem content on peddling stadium-filling fluff our way, it's easy to forget just how good they are at dingy club-filling fluff. 'Rip It Up' is a prime example of this; direct, dumb lyrics ("Hey girl! Get on the dancefloor!"), undemanding, unshowy riffing and a vaguely snotty, punk-lite attitude. Now, I realise that I may not be making this sound great in my description, but it's all about hearing it in a club, at a gig, on the radio, wherever. 'Rip It Up' makes a beeline for your feet and makes you shake your head like a twat. For this reason and this reason only, I will love it forever.
134. Kanye West feat. Jamie Foxx - Gold Digger (Roc-A-Fella, 2005)
You can sort of pinpoint the exact moment that Kanye turned from being a producer-turned-rapper with a successful first album behind him into a bona fide worldwide superstar right down to the first few bars of 'Gold Digger'. The point where the drums kick in seals the deal, but you knew you were hearing something special from the first note of Foxx's Ray Charles impersonation. That this is still rocking the radio and clubs the world over ensures that West has pretty much cemented his status. He may be a little overbearing in his egocentricity these days, but if anyone deserves to be, it's him. And this is the reason.
Kanye West feat. Jamie Foxx - Gold Digger (mp3)
133. Rilo Kiley - Portions For Foxes (Brute/Beaute, 2005)
The latent indie boy in me absolutely fucking loves this song and I'll tell you why in just two words: Jenny Wilson. She may not be SuperVamp or anything, but her vocal on this song just oozes sex, in my opinion. Most of the time, I can take or leave her voice, I think that she can sometimes be a bit too winsome for her own good, but if you see her in the video for this, or even better, see them live, she switches from coy to aggressive to hurt, sometimes within the space of a line and it's a joy to behold. Also, when she screams "Come here!", I get a little, ahem, worked-up. I'm gonna go and have a shower.
Rilo Kiley - Portions For Foxes (mp3)
132. Franz Ferdinand - Michael (Domino, 2004)
There's a reason why this, alongside 'Take Me Out' is, and always will be Franz Ferdinand's student disco staple and that's because young men get a free pass at acting out their latent homosexual desires. They might pretend to snog their best friend, grind their hips against them and generally camp it up like "beautiful dance-whores" for three minutes and twenty-one seconds, before switching back to cocky insouciance for 'Last Nite', or whatever follows it, but in the course of those three minutes and twenty-one seconds, Franz Ferdinand have done more for the emotional wellbeing of young, male uni-goers than any campus counsellor could ever do. FF, we salute you.
Franz Ferdinand - Michael (mp3)
131. Bubba Sparxxx - Ugly (Polydor, 2001)
Bubba's Deep South, grits 'n' grime hick-hop may have stuck around about as long as a Post-It (at least with record-buyers, I know he's still doing the rounds), but 'Ugly' is one of those lightning-in-a-bottle moments (Sparxx himself admits that "this moment came from nothin'") that seem to come along pretty frequently when Timbaland's involved. I bet Missy was pissed off that he didn't give this to her, though. Timbo even rubs it in by mixing a little 'Get Ur Freak On' in at the end, as if to show that 'Ugly''s beat can just as easily stand up next to it. For the course of the track, Bubba proves an amiable tour guide around the tractor pulls and cook-outs of his Atlanta stomping ground, but this track, as ever, is all about the beat. Good job it's one of Timbaland's best.