Konichiwa Bitches!
Hello everyone!
I did have a brand new mixtape for everyone, but it was a bit 'conceptual' and weird, so I canned it when I realise that it was probably more of a mix for myself and not for everyone. I'm currently at the drawing board as I type, trying to compile a new one for y'all. I've got a week off from work this week, so I hope to get in some more blogging than usual. It probably won't happen but we'll see.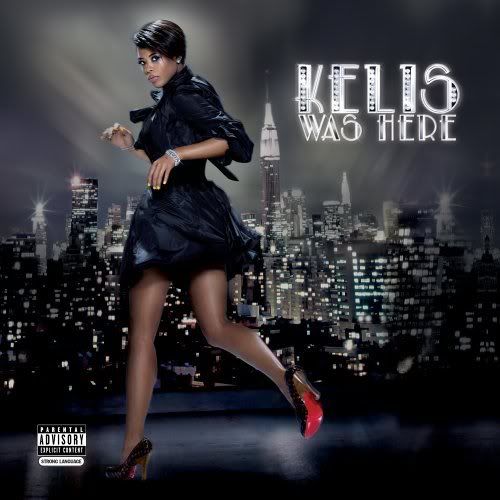 So, Kelis is back with a new record and, as you can see from the artwork, a new look also. I'm not sure if I like it to be honest. I'll level with you, I have had a bit of a hard-on for Miss Rogers since Kaleidoscope, both in a musical sense and a phwoarr sense, but parts of Kelis Was Here really turned me off. There's more than a little flab in its eighteen tracks, but there's still some absolute belters there that are worthy of her output thus far. ''Til The Wheels Fall Off', despite being produced by Will.I.Am is superb, 'Bossy', as you all should know by now, is a brilliantly brassy bit of self-aggrandisement (or self-parody, perhaps) and there are quite a few pleasingly bizarre moments like 'What's That Right There' and 'I Don't Think So'. The overriding feeling you get when listening to Kelis Was Here however is that a little quality control would have gone a long way. Kelis fans shouldn't abandon all hope, but this isn't quite the great pop r'n'b album that we've come to expect from her.
Kelis - What's That Right There (mp3)
An artist who we've learned not to expect greatness from, except when he is playing Cheese in The Wire is Method Man. Still a fantastic MC, with an irrepressible style and tons of charisma, he's not released a decent album since Tical back in 1994. He doesn't surprise us with his new album, 4:21...The Day After. It's a perfunctory, overlong, lazy album with fewer bangers than your local off-licence on November 6th. However, when I looked at the tracklisting, I thought "Aye, aye! What's this then? Mr Mef has covered Robyn? Get outta town!", or words to that effect, as right there, at track 15 was 'Konichiwa Bitches'.
It wasn't long after that I realised that Robyn named her song after something that Gza said on Chappelle's Show once (the racial draft sketch, if anyone's interested), so the erstwhile Clifford Smith must be merely referencing the same thing that Robyn was. When I heard it, this theory was confirmed. A missed opportunity if ever there was one. I'd pay good money to hear Method Man rapping about his "ba-da boom-booms". Just think about that gravelly voice spitting "One left, one right, that's how I organise 'em. You know I fill my cups no need to super size them" and I dare you not to smile.
Method Man - Konichiwa Bitches (mp3)
Robyn - Konichiwa Bitches (mp3)
Ciao, motherfuckers!
JMx