Top 300 Singles: 2000-2005 (160-151)
I thought I'd resurrect this spurious, contentious list that I started over on the old blog. I can't even remember why I compiled it in the first place, but I'm sure as hell going to finish it, so here we are, re-starting our countdown from number 160...
160. DAVID HOLMES - 69 POLICE (Go! Beat, 2000)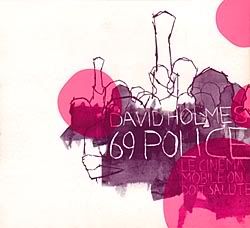 Now ubiquitous, due to its soundtracking of many a goal montage, but the lead single from Holmes' ill-fated score for a yet-to-be-made film,
Bow Down To The Exit Sign
is still as beguilingly funky as it was six years ago. Pushing all the buttons marked 'cinematic', Holmes really imbues the track with a sense that it could have been made at any time in the last forty years, as it takes in krautrock, balearica, hippy-ish, Haight-Ashbury grooves and trip-hop along the way. Not his best tune (that'll be 'Don't Die Just Yet') but it certainly comes close.
David Holmes - 69 Police (mp3)
159. THE ZUTONS - DON'T EVER THINK (TOO MUCH) (Deltasonic, 2004)
Much-maligned in so-called respectable critical circles, The Zutons are a band that I've always had a bit of a soft spot for and this, in my opinion, is their finest two-and-a-half minutes. Channeling the spirit of early Dexy's Midnight Runners, whilst putting their own ramshackle, Scouse stamp on the thing, 'Don't Ever Think...' is a brief riot of colour and sound that's as flimsy as it is fun. There aren't many bands out there today who can seriously claim the aforementioned Dexy's and Sly & The Family Stone as a reference point and that's why we shouldn't overlook The Zutons while they're around.
The Zutons - Don't Ever Think (Too Much) (mp3)
158. ANDREW W.K. - PARTY HARD (Mercury, 2001)
Another tune, like the last, that you can just file away under big, dumb fun is this, the debut single from vaguely creepy retro-rocker, Andrew W.K. 'Party Hard' is a fist-pumping, beer-chugging monstrosity that, while you wouldn't want to be left alone in a kitchen at a party with it, you'd happily stay at an acceptable distance and watch it wreak havoc like the Beasties in the 'Fight For Your Right...' video. Just don't come crying to me when it's got you in a sweaty headlock, calling you its best friend.
157. CLIPSE - GRINDIN' (Star Trak/Arista, 2002)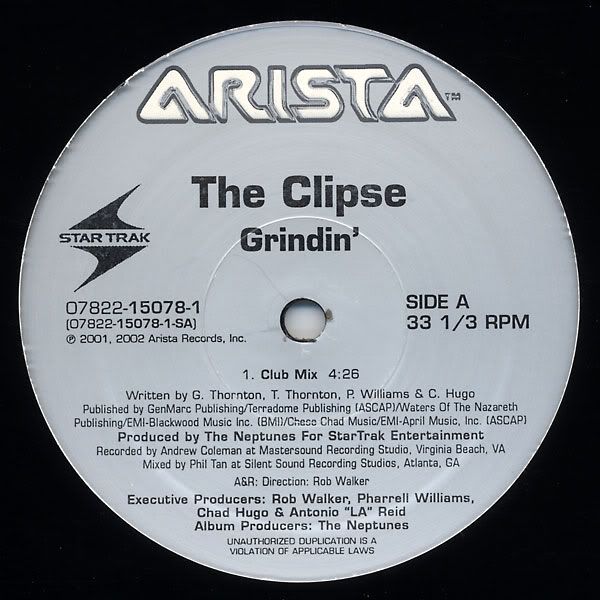 I wrote about the Clipse the other day at length, but I'll add here that 'Grindin'' is one of The Neptunes' best beats, all clicking fingers, clapping hands and, as I said the other day, what sounds like car doors slamming. The hook is fucking awesome too. "Y'know what I keep in the linin'".
156. THE ROOTS FEAT. CODY CHESNUTT - THE SEED (2.0) (MCA, 2002)
Using the gentle art of (ahem) making babies as a metaphor for creative expression would normally make the average listener run for the hills, but The Roots and ChesnuTT manage to make it not only palatable, but thrilling. This retro-proto-funk number is the closest that The Roots have come to a solid-gold pop hit, with ?uestlove's thumping drums and the clipped guitar line updating 'Harlem Shuffle' for the neo-soul generation.
The Roots feat. Cody ChesnuTT - The Seed (2.0) (mp3)
155. BRIGHT EYES - LUA (Saddle Creek, 2004)
Whatever your opinion on the precocious troubadour, Conor Oberst, you'd probably all agree that the little fucker can knock out a tune on occasion. 'Lua', despite being one of his most onanistic (the guy only ever seems to sing about himself, right?), is also perhaps one of his most affecting. Stripped down to just an acoustic and that fragile, always near-breaking voice suits him better than a full band most of the time and although the story of drunkenness, love and regret may be a little difficult to fully empathise with, the urge to smack him in the face is weaker over these four-and-a-half minutes in comparison to the rest of his oeuvre.
154. THE AVALANCHES - FRONTIER PSYCHIATRIST (XL, 2000)
Anyone who endeavours to make cut 'n' paste music can find their efforts being nothing more than a bit of enjoyable, yet transient fluff. The enduring brilliance of what The Avalanches did with 'Frontier Psychiatrist' is down to the track being more than just a bunch of random, disparate elements thrown together to make the listener smile the first few times around, but want to jab an icepick down their ears after that. 'Frontier Psychiatrist' is a bold, dizzying bout of showing off that just happens to, y'know, tell a bit of a story. That the story is completely nonesensical is irrelevant as I dare you to not make those silly, pompous voices when you hear it now. "That boy needs therapy!"
The Avalanches - Frontier Psychiatrist (mp3)
153. LINDA LAMB - HOT ROOM (International Deejay Gigolo, 2001)

The fact that this wasn't an absolutely huge mega-hit still saddens me to this day, as 'Hot Room' is the best song that Siouxsie Sioux never wrote. Unfairly lumped in with the then-prevalent Electroclash debacle, due to the IDG affiliation, this mini-psychodrama still has the power to chill and surprise to this day. Maybe a re-issue wouldn't be out of the question.
152. MY MORNING JACKET - SWEATBEES EP (Wichita, 2002)

MMJ announced their arrival, on these shores at least, with this five-song collection of tracks from their first couple of albums. It perfectly encapsulated what this band were all about for us ignorant limeys, taking in the warm, celestial country of 'Lowdown', the rousing 'The Way That He Sings' and the soulful 'Come Closer', alongside 'O Is The One That Is Real' and 'Sooner'. It wasn't exactly a kick-down-the-doors statement of intent, but that's not MMJ's style. This is an ear-tickling sampler for the sublime music that was yet to come from this special band.
My Morning Jacket - Lowdown (mp3)
151. BLOC PARTY - BANQUET (Moshi Moshi, 2004)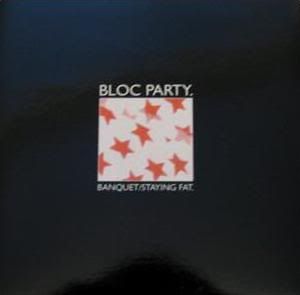 Bloc Party are still a bit of an enigma really. There clearly a fiercely intelligent band who seem to want to consolidate that with their knack for a tune, yet they still want to be able to just do what they want to do. There also a band who make music that is seemingly very well-suited to the live arena, but are often a reticent, nervous live act. The one track that always seem to work well at gigs is this as this most eloquently marries the cerebral nature of their music with the pop edge that they crave. A dazzling, high-tension mini-epic that almost gets better with every listen.
Visit the old blog to look at previous entries in this list. Or alternatively, you could just stick knitting needles in your eyes instead.