Shall We Dance?
Another day, another post about The Rapture...
So, I finally (ahem) 'got hold' of all of the new album from The Rapture. On first full listen, it's, how do I put this...technicolour. An album whose cover (above and doesn't it remind you of The Futureheads' first?) really signifies what lies within. If
Echoes
had that creeping sense of paranoia and angst about it,
Pieces Of The People We Love
is the sound of The Rapture loosening up and getting on down. On the first run-through, it's quite startling just how relentlessly upbeat the whole affair is.
Every track here is geared towards the dancefloor, other than the suitably epic sundowner, 'Live In Sunshine' that closes the record. You know something else? It's really good. Once the ardents get past the fact that this is The Rapture's pop record, they'll be dancing until dawn. If I was to pick a highlight off just one play, it would have to be the sheer delight of 'Down For So Long', a song that they've been playing live for such a time that it feels like an old favourite. So here it is...
The Rapture - Down For So Long (mp3)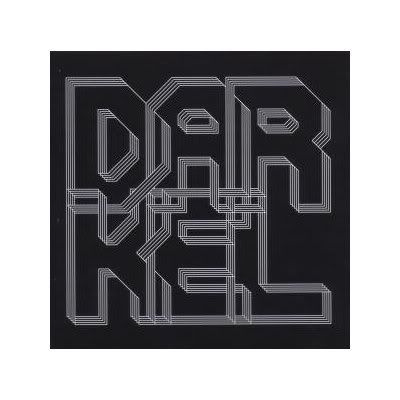 Darkel is the alter ego of Air's Jean-Benoit Dunckel and his self-titled album, due out in a couple of weeks is quite a bit more than just a stopgap before he hooks back up in the studio with Nicolas Godin. As you would expect from someone who has spent the last decade indulging in retro-futurist soundscapes, this record sounds like it could have come from either outer space or the 70s.
Granted, there are flashes of Air's proggy tendencies, but it's all tempered with a sharp (FM) pop sensibility, not unlike Phoenix covering ELP at times. The record takes in floaty atmospherics ('Be My Friend'), sci-fi chamber pop ('Some Men'), space disco ('Earth') and even cocaine cowboy-ish country pop ('At The End Of The Sky'). The barnstorming 'Beautiful Woman', a surefire future hit, sounds like 'Gimme Some Lovin'', as covered by Jean-Jacques Perrey, but way more natural and nowhere near as contrived as I just made it sound. See for yourself...
Darkel - Beautiful Woman (mp3)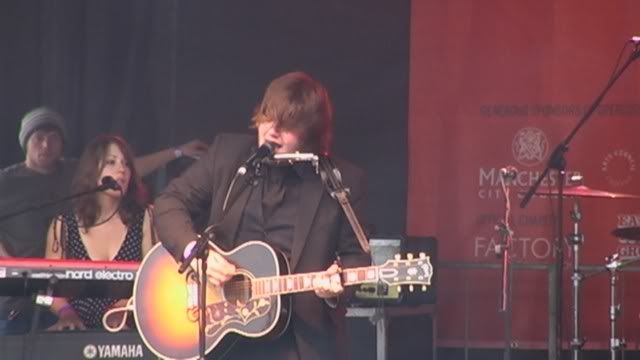 I went to see Liam Frost & The Slowdown Family again yesterday, this time doing an instore at HMV in support of the new single (current Yer Mam! Single Of The Week!). I had a bit of a pop at The Young Knives for doing instores last week, so I won't go into why I feel a bit morally opposed to them. What I will talk about is just how awkward they seem. Unless the band that you're watching treat every tiny gig as if it's their last, you're never really going to get a full flavour of a band/artist if you watch them do an instore. The band feel strange, the crowd don't really move and, Jesus, you don't even have a drink and/or cigarette in your hand. You do occasionally still get people who are the size of redwood trees standing in front of you however.
Anyway, instores = not proper gigs. During 'Shall We Dance?', my instore chum, Prudence asked me the titular question. Now, I'm not averse to occasionally blowing my cool and cutting a rug when all others around me aren't. I remember being one of only three people dancing in the upstairs seating area to Doves at the Manchester Apollo a couple of years back, but this time, I just couldn't muster up the enthusiasm to break out and give it the full cheek-to-cheek, but thinking about it now, I kind of wish I had.
So I want you to do something for me. Download the mp3 below, grab the nearest person, be they housemate, spouse, sibling, arch enemy, postman, whatever, and turn your living room into a ballroom, at least for just four minutes and forty-odd seconds. In fact, you don't have to dance with a person, grab a pet, an ornament, a house plant, anything. Just get moving.
Liam Frost & The Slowdown Family - Shall We Dance? (mp3)
Happy dancing, folks!
JMx